Let me think. My 2014 Mazda2 Sport is the fifth Mazda I've owned.
I have had the pleasure of owning two RX7's and two Miata MX5's. All have been fantastic cars. Mazda has treated me well.
I can remember several years ago when the Mazda2 first hit the showroom floors. I can also remember when I saw my first 2 on the road. The 2 had a fun playful appearance and undeniable Mazda character.
At the time, however, I had no need, or desire to own one.
Fast forward to 2014. Over the past year or so I've been driving and traveling more due to occupational demands. After realizing the amount of miles I'd been driving, I found myself in need of a good economical point A to point B vehicle. All this because I didn't necessarily want to put excessive miles on the cars I currently owned.
My car shopping criteria was simple.
I needed a car that was under $20K, manual, 4-door, and must be equipped with an audio USB port. Simple, right?
I'm not brand loyal. I never have been. So, I researched everything available. I looked at and test-drove cars from Toyota, Honda, Mazda, Nissan, Kia (surprisingly), Chevrolet, and Ford.
The factory incentives and rebates certainly played a role in my new-car viewing, driving, and purchasing process.
There are obviously pros and cons to all subcompact vehicles in this class. Though my expectations were few, there were only three cars that really earned my interest.
They were the Honda Fit, the Ford Fiesta, and the Mazda 2.
I liked the Honda Fit, but, man, is it ugly. I couldn't get over its appearance. And that's a shame. I'm sure it would have been a great car. Shockingly, I really liked the Ford Fiesta SE with the 1.0L Eco boost. Sure, I didn't appreciate the ridiculous ergonomics, overcomplicated dashboard, spongy clutch feel, sloppy shifter, super cheap recycled interior plastic, and the heavy handling. But, the mighty tiny turbocharged engine, surprising power, rapid acceleration, and insane MPG were hugely impressive. I almost bought one. I was a just signature away.
But, I hesitated because there is something special about Mazda, and the Mazda2.
With the Mazda2, there is a lot to like. Let's see the price. Yep, that's impressive. The overall appearance and aesthetics are rather appealing. It is super lightweight, even for its class. While being an inexpensive car, there is still a sense of quality. The build materials might be cheap, but, every part looks and feels nice. The interior layout is well thought-out and boasts proper ergonomics. The manual transmission shift lever placement is near perfect. There is an impossible amount of room for a car of this size. Plus, the 2 has a ton of standard convenience features (all the features that I need anyway). And, the Mazda2 gets respectful MPG. What did I forget?
The only thing I disliked about the 2, was the power. The poor little Mazda 1.5L DOHC 4 cylinder engine doesn't have any.
It makes like what? A 100HP. On a good day.
As you can clearly see and what I'm trying to say is this; I wanted to purchase a Mazda2 Ford 1.0L Eco boost. Sadly, I couldn't find it anywhere!
A compromise was in order. So, I purchased the only Mazda2 version available, the standard Sport model. To be honest, there really wasn't too much to compromise with the Mazda2. Its only shortcoming was the power. The Mazda2 had everything else.
I purchased a 2014 Mazda2 Sport in Blue Reflex Mica with a manual transmission and factory integrated Bluetooth.
I clearly made the right decision.
The Mazda2 has so much character. You can sense the energy, emotion, and focus that built this car. The Mazda2 definitely has purpose. It is both smart and simple. Extend your arms and legs and all the controls are in a natural location. The steering feel and handling are precise. The chassis is firm and unwavering. I can feel both the RX7 and the Miata MX5 in this vehicle. There is no question that Mazda is a company staffed with true car enthusiasts and their enthusiasm exemplifies the cars they build.
It is not fair that this miniature car delivers so big and costs so little. I guess we have to be thankful for competition.
No other car comes close to conveying the driving enjoyment of the Mazda2 in a comparable price range and class. The driving experience is what this car is all about and alone, the reason that sold me on this vehicle.
The driving experience defines the Mazda2.
Seriously, this car is more fun than imaginable.
The Mazda2 has a fun playful yet sleek appearance. The big black happy front grille adds personality. The curves, angles, and lines of the bodywork flow very well. The Mazda2 has character throughout. Plus, just looking at the 2 makes you smile! I'm happy with the Blue Reflex Mica. It is a good color for this car. Overall, the exterior design is pretty much faultless. That is, if you can forgive the huge wheel gaps. But, some aftermarket lowering springs can cure that. Nobody's perfect.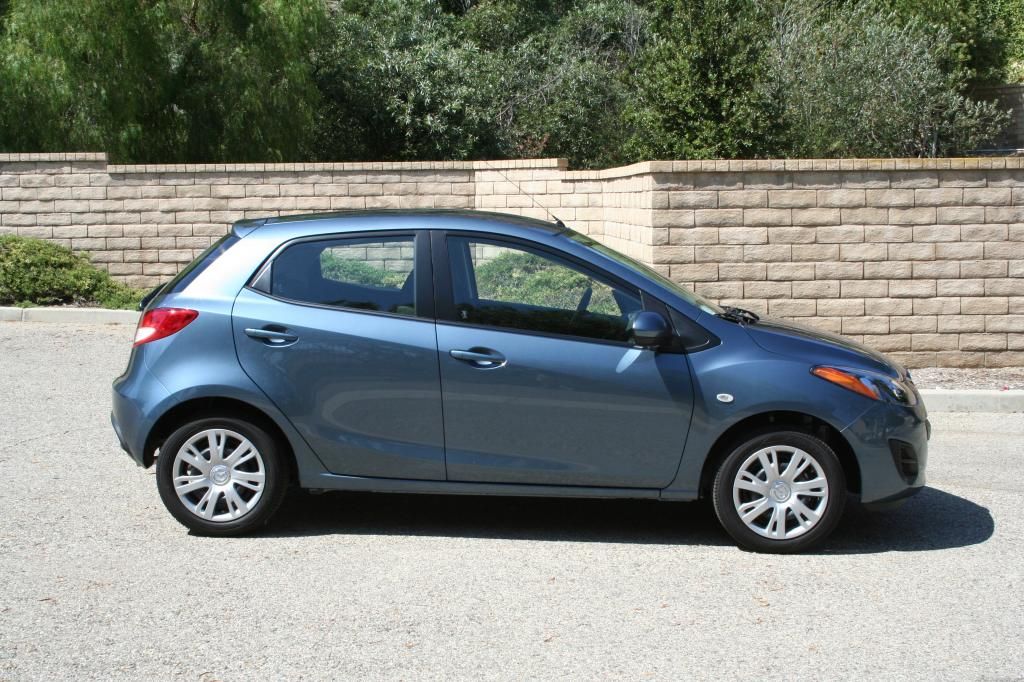 The interior is comfortable and roomy. The interior styling is tasteful and all the controls and switches are in the right locations. Everything makes sense. Why is this so hard for so many other manufactures? I'm happy to see the Mazda2 equipped with rear wiper. This feature will come in handy in difficult weather conditions. The stereo sound quality is above average for this price range and it's equipped with a standard audio USB port. Heck, I bought a brand new car last year for more than double the price of this car and it didn't have an audio USB port! Unbelievable! Did I mention the 2 has plenty of cup holders? However, where is my armrest?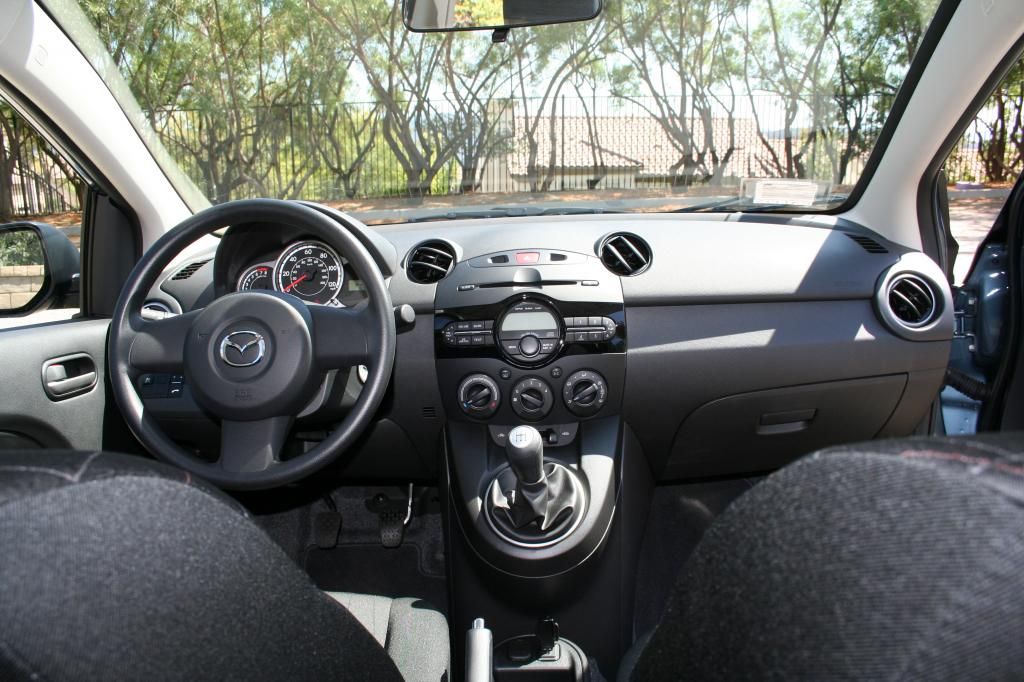 No doubt you feel very connected to this car and to the road. The chassis relays great feedback and handling is incredible despite the economy tires and soft suspension. The Mazda2 is very capable conquering challenging canyon roads. Steering feel is a little light but, the turn-in response is lightning quick and the overall grip is impressive. However, when pushed, I have experienced my share of understeer. But, come on! That comes as no surprise. With a couple minor suspension upgrades and larger wheels and better tires, the 2 would not have any problems competing with the Mini Cooper. I hate to say it but, the Mazda2 is justifiably a 'drivers' car.
The Mazda2 lacks power. There is no denying it. The poor thing has a hard time and you can feel the engine laboring when you hit a steep grade. Luckily, the transmission gearing is more than adequate and the 2 feels pretty peppy and can accelerate competently in most driving conditions. You just can't expect to win any drag-races in this car. There are a couple additional troubling aspects with this engine. The throttle response is vague, delayed, and difficult to gauge. Hardly confidence inspiring. Furthermore, there seems to be some flat-spots in the power-band. The engine doesn't rev smoothly and consistently throughout the RPM range. These examples aren't 'problems' with the engine. They are 'traits' of the engines operation and factory engine tuning, which could use some work. Perhaps an aftermarket engine tune can cure my dissatisfaction? All that aside, the underpowered little Mazda engine adds even more character to this car by emitting some cool sounds. The engine produces a cool buzz sound while cruising and an aggressive albeit quiet grrrr when accelerating. You simply must appreciate it's never ending effort and personality!
Mazda has put together quite the subcompact. It may not perform great in any particular category, but, it does perform better than expected and better than it should in virtually all categories. For the price, you can't beat it. The Mazda 2 is the complete package. I'm glad I have one. Did I mention I'm averaging a combined 34 MPG? Not bad at all.
Good job Mazda, but now, it is my turn.
My goal is to tastefully upgrade my Mazda2 with minor modifications to personalize and to improve my overall driving enjoyment.
To start, I'll be tinting the windows, removing the wheel caps (they always fall off anyway), replace the long wire antenna with a short-stubby radio antenna, and adding an appropriate manual shift knob.
More reviews and upgrades to come…
Mike
Last edited: