These things were quiet enough that we never knew they were there, and they held a Yakima Skybox18 full of ski/snowboard gear with no issues.
Included all original mounting bits and the keys.
Removed from the 5 in September when the car went away.
The marks on the top are from the original wrapper adhesive; I didn't peel off all of the material until I uninstalled the rack, and the less sun-faded sections are accentuated by the camera flash.
They are in the Denver/Lakewood area, Colorado.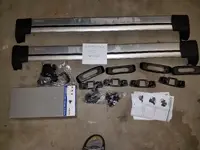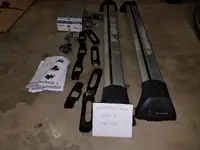 Last edited: