YASSSSS!!! That thread, and your saved photo is fantastic!
I put this together based on some values on that sheet and what I have measured/put together based on a friend's thread from another forum. It's helped me to get an idea of how to set up my car for when I next pick up a set of struts/springs. I MASSIVELY assumed the diameters of the stock bars, as they are noted, as well as the effective springrate based on a diagram someone posted.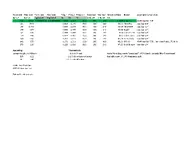 This is with weight of my particular car before the KL swap, so I'm really waiting to get the car on corner scales before I decide on what to go with for autocross. Also, the hulking size of the rear swaybar is impacting the front roll bias in my case.