Have a 2012 Mazda5 Sport, 95k miles. Purchased in 2016 at 73k miles.
Admittedly, haven't maintained it too well. Trying to make up for it now, learn more about my car, etc.
I was inspecting underneath, saw this part in the right rear was covered in grease. Corresponding part on the left rear was bone dry.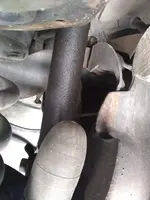 Couldn't find the part in a diagram online. Could someone advise -
-What is this part called?
-Should it be greasy or dry?
-How big of a deal is this?
-If needed, how much should a mechanic charge to fix?
Thank you