After having the car for a while I finally feel like I got some decent content for a build thread. So here we go.
first: i gotta start of with a goal. when I originally purchased the car I was going to build it for drifting but after taking it to an open track day at horse thief then streets of willow I felt the car would last longer and be better off doing time attack. So that's its current purpose.
I am concentrating on working on the suspension/ tires and chassis before I begin doing any engine mods. as of now the engine is completely stock.
installed Mods:
Suspension & Chassis
BC coilovers
racing beat front & rear sway bars
stoptech 309 brake pads
flying miata butterfly brace
daily: Drag dr-46 15x7 +10 w/ falken 512 195/50/15
track: konig Spooled 15x8 +20 w/ falken azenis 615k 205/50/15
saftey
HD Sport DD roll bar
HD harness bar
corbreau fx1 pro
Corbreau 4 point harness
parts needing to be installed:
racing beat rear subframe brace
2nd priority parts wanted:
1. autoexe intake
2. RB header
3. high flow cat
4. catback exhaust
appearance:
my car has quite a bit of scrapes and color panels that are not exactly the same shade of green because of the fact that it was a salvaged title. so there are quite a bit of aesthetic things that could be fixed. mainly the sun damaged trunk and scrapes on the sideskirt. I also need to fix a scrap on my lip. However, since non of this stuff will make me go faster it's on the backburner behind my high priority performance parts.
1. paint trunk, side skirt, lip. considering repainting the whole car factory emerald green
2. garage vary type n rear bumper. want it so I can set up a good diffuser underneath it.
Aero
: I want to start doing some aero mods sometime this year
1. front splitter
2. canards
3. rear diffuser
_____________________________________________________
now i know you don't car about all that I wrote so lets get to the good sh*t. pics :icon_cheers:
the day I got her. before we went through and cleaned it up.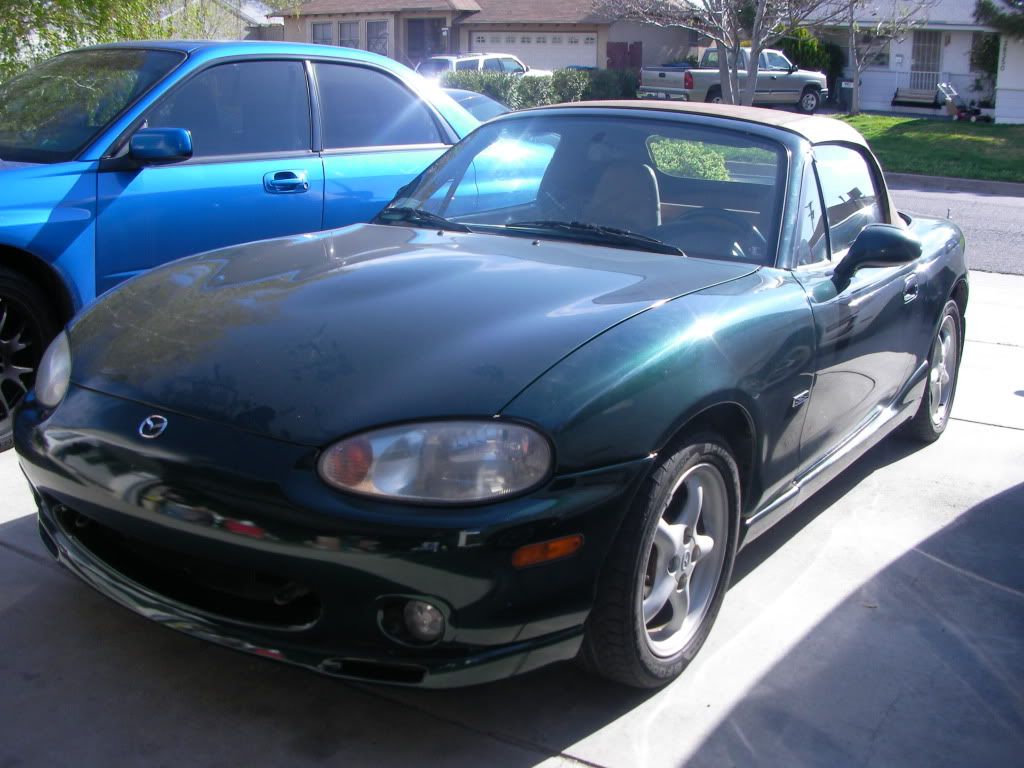 sitting next to my mx-3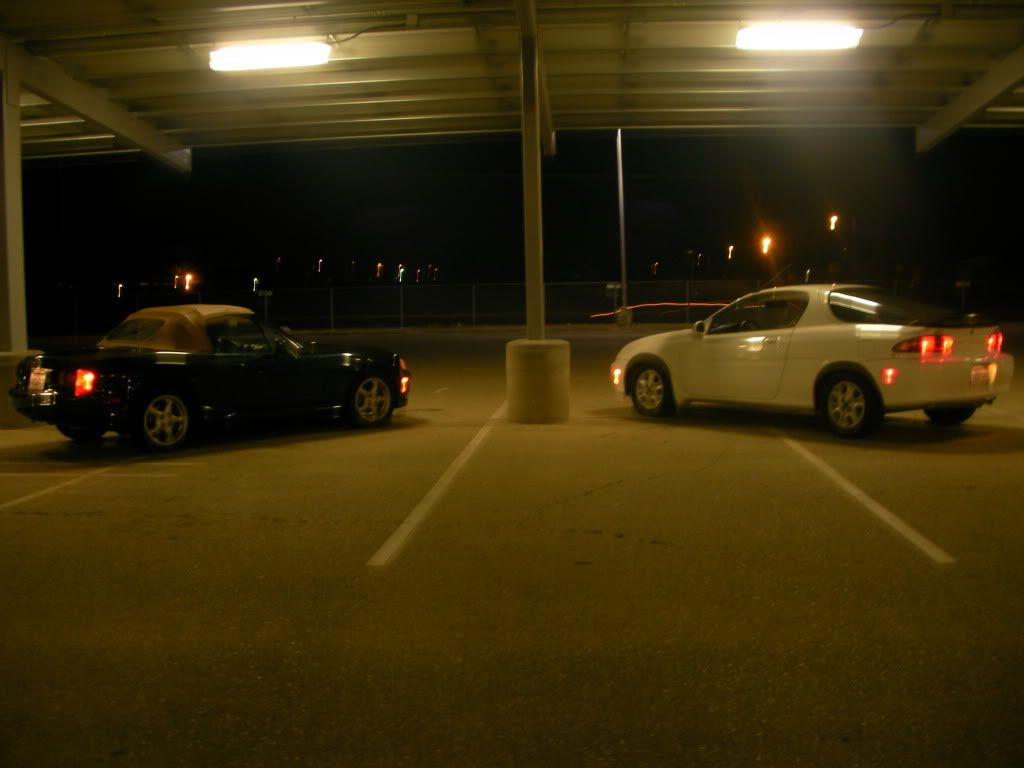 at mazfest ....still stock

oct 9 2011
hard dog roll bar install. scooter(scott) and my brother helped...and by that I mean they did most of the work lol.

nov 8 2011
canyon run, i was still on stock suspension at this time.. you can see my painted wheels, clutch_dust helped me paint them.

nice weather...aaand it's gone

yes...during the same run we went from a nice day to that..
jan 10 2012
nice shot of the roll bar and wheels.
jan 17
RB parts came in
and soon after i got this

after the install... my brother and his co-workers did the install after hours at the dealership they work at.. because having a lift comes in handy. my bro does everything for the car so I can't thank him enough.

feb. my first track day. horse thief. I ran a 1:15 i think. I know right, slow.... i was getting a good amount of oversteer then I corrected the suspension but the problem is in the tires. yokohama s drives just don't cut it.
my friend's evo about to eat my little miata
may
second track day, this time at streets of willow.
prepping.

my brothers suby was trying to keep up but i was faster then him throughout the course.
the mazda 3 was quick though. it belongs to my friend don and he was taking me on the corners.

Last edited: