:

CWP MAZDA MAZDASPEED3 2012, CWP SKYACTIVE 6MT SEDAN 2012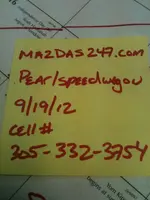 i will be parting out my mazda 2... I have a few items up for grabs..
1. OEM Side skirts/ install templates $ 100.00
2. OEM ALL WEATHER MATS USED $30.00
3. OEM MAZDASPEED 3 used SHORTY ANTTENA $15.00
this is the only things I got left. Thank you to all for the purchases!!! My Mazda 3 sedan build is off an running!!
ALL PRICES INCLUDE USPS FREIGHT SHIPPING TO THE LOWER 48 STATES
i will be uploading pics through out the day as i am at work. I can only load as a attached file. Cant get them to post on the thread. Our internet restrictions are awesome.. Any how the first pic i posted as a attach is a pic of my user name, date and my phone number.. Feel free to textr any questions as i am at work all day. Payments will be accepted via paypal or in person for local pick ups..
My cell phone number is 305-332-3754....had the car since april and the parts really made the car fun to drive...really surprised some people at the autox events but shes got to go. Lmk know guys and thanks for looking!!
Last edited: