2016 Mazda CX-5 GT AWD w/Tech Pkg
Contributor
Well crap! I knew that there was something that else that I should have checked on while I had the wheels off! Do you know where exactly that stamp is located on the caliper? I just checked the built date as shown on the driver's door sticker. It says 8/16.

"The TSB says CX-5*s with VIN JM3 KE 600015 - 866136 are affected" My VIN falls within those numbers, it's near the end of that sequence but it is within it.
The lot number is stamped on the middle-lower side of rear caliper: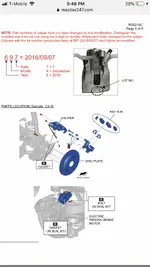 I post 2 related TSBs of this EPB dragging issue with links in post #52 above. TSB R052/16C still can be seen in the attachment of the post. Therere plenty of informations in there including the lot info I posted here.