There are lots of comments and threads about this subject, but figured I would start a new one. I was going to do my own oil change so went to dealer to purchase an OEM filter #1WPE-14-302, cause I like using OEM parts. Earlier this year the CX5 was at the dealer for some warranty work, which included an oil change. So while doing my own service, found this strange looking filter attached to my 2.5 Skyactive engine.(uhm)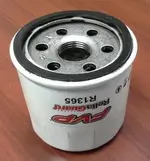 FVP #R1365. Never seen these before so this is what I found on the web.
https://www.fvpparts.com/products/filters/oil-filters/
Could not find any specific flow rates, etc. but did notice this filter fits on 192 different applications, as per the website. Yep, special app just for the skyactive motor.(unamused)
This might be a perfectly good filter, who knows. The thing that really urks me, is the dealer has signs, posters, advertises that they only use quality Mazda products.
I did discuss with the GM on why the aftermarket filter. His response was that it has to do with costs, and that it's a perfectly good "
Mazda warranty approved
" filter. The plot thickens, at the time, I didn't know what they sold me, but now looking at the work order it lists the MAZDA PE01-14-302B. So they charge for mazda filter and install the aftermarket.
Dam, I'm going to have another little chat with them. This is the type of great service I've been dealing with over the couple years.
But hey, all you DIY's, you can now buy an approved aftermarket filter for your Mazda's (enguard)