I've only been on the forum a short while, but I've already got a lot of advice from y'all. Thanks for all the help!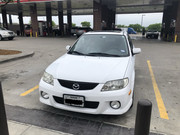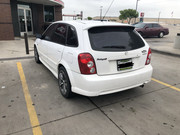 A few months ago I bought my mother-in-law's Protege5 for $1,200 cash with 79k miles. It was garaged its whole life and never saw snow or rain until I bought it. Overall, super solid car with the exception of a few side ripples and a broken side mirror where my soon-to-be-wife decided to drive the car into the garage door.
So far I've replaced the side mirror, which I bought on eBay. Its not painted because I'm CHEAP.
I also replaced two engine mounts (the mount on the left up-top by itself and another under the battery tray). I bought the set of all four, but I haven't had time to replace the other two. That was an eBay purchase but actually ended up with a high-quality part.
I replaced the radio with a sleek buttonless touchscreen. That was substantial cash. I may or may not have rigged the DVD player to work without a parking brake (mostly because the P5 doesn't directly wire into the new style set-ups). That was from Crutchfield, so I paid like $14 for it to come pre-wired so theres no margin for user error.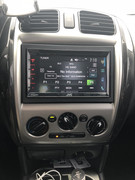 I replaced the antennae with an O'Reilly's stubby. Easy.
I got nice wetsuit seat covers for the front.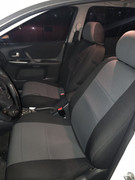 I cracked the headlights open and painted them black. The clear coat on the outside isn't perfect by any stretch, so I need to do that part again.
I also JUST TODAY bought a Mazdaspeed front lip (the electric blue) that will be in the mail on Monday. Its not perfect and will require a bit of help before the bodyshop, but they're hard to find.
I also found ONE (yup just one) headlight delete so I'm going to buy that and get it 3D scanned. After its scanned, I can 3D print a mirror image for the other side.
I also have the one-piece grill (painted black)
OVERALL, its a really solid car. Next I have to do a suspension job and new tires all around. It'll be a good one!
Last edited: