It's that time of the year again! Mazda Madness is yet again upon us! Shine up that Mazda of yours, new or old, rusty or in prestine condition, WE WANT YOU THERE! Help us make this year's Mazda Madness the biggest one yet! So book some time off, clean up those cars, get your CD collection ready and have a roadtrip and weekend away in beautiful BC. All models of Mazdas are welcome: Mazda 323, 626, 929, MPV, 3, 5, 6, RX7, RX8, Miata, Mazda Speed vehicles, Tribute. This year's Mazda Madness will be held in Aldergrove, BC at Twilight Drive In.
Twilight drive-in has space for over 400 cars! The facility also has dedicated washroom facilities, and a concession stand serving food and drinks. Unfortunately, due to facility rules
NO OUTSIDE FOOD OR DRINKS PERMITTED. NO ALCOHOL.
There will be some door prizes and a 50/50 draw! A concession stand is available should you want to purchase food. There will also be a detailing competion the day of the meet (weather permitting)! Wax up that car of yours and show us what you can do! Proceeds from the event will be going to a local charity! So come out for a great cause!
Admission to the event is FREE.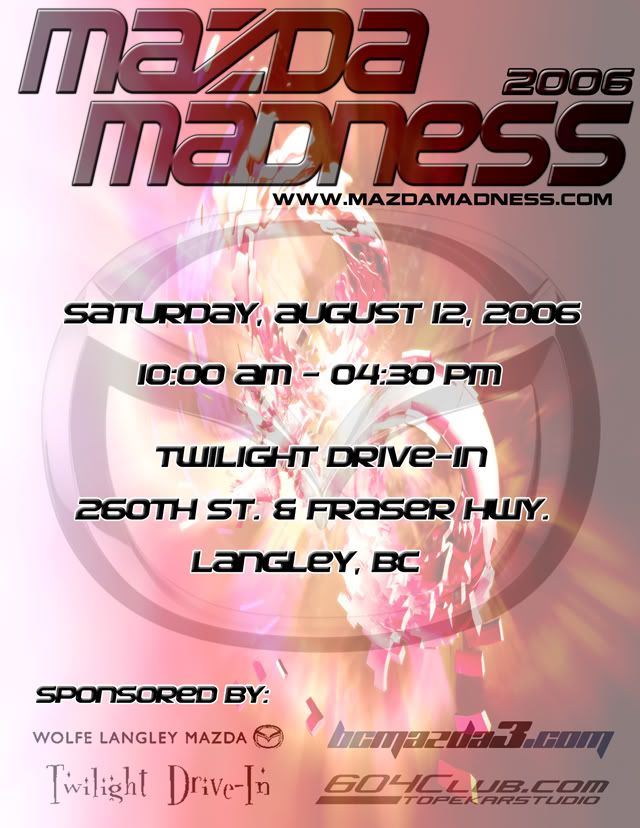 Driving directions
You can enter your own driving directions above by clicking on the link.
*******UPDATE*********
For those of you who want to stay for the drive in movie, you guys are welcome to do so. A great way to end off the evening!
Detailing competition has been cancelled!
Vendors and Sponsors who will be attending:
Twilight Drive In
Wolfe Mazda Langley
TOPE
Audio Video (Surrey Branch)
Tuning Spirit
Pacific Auto Spa
Visual Garage (rep will be there)
**************************************
MOVIE INFORMATION AND PAYMENT
You, Me & Dupree
Miami Vice
Silent Hill
Movies start at 9:15PM
admission for the movies are $11 per person
That's 11 bucks per person for all 3 movies! Good deal!
Last edited: