Look Mom, A Real Clutch!
Contributor
:

2008 Mazda5 5MT Sport w/ Popular Package
(naughty)

The winds of change are blowing at Mazda! This sketch shows the Japanese maker's all-new SUV, set to be unveiled at this year's Moscow Motor Show in August.

The sleek crossover, whose styling is inspired by 'crosswinds', will be uncovered in concept form at the Russian show and will provide the basis for an Eastern European market SUV called the CX-5, due in 2009.

But the good news is that the CX-5 will be heading West. Due to hit UK shores in 2010, the CX-5 will be a stylish newcomer in the fledgling small SUV market, battling it out with the Ford Kuga and Nissan Qashqai.

The new concept is the latest Mazda to follow the firm's 'Nagare' design direction, following a glut of similarly themed concepts including the the Hakaze, Taiki and the Furai. The word 'nagare' means 'flow' in Japanese, and encapsulates Mazda's 'new approach to expressing movement in car design'.

As ever, we'll be first with breaking news when the Russian concept is fully unveiled, so keep coming back to Auto Express online. In the meantime, make sure you check out our exclusive video of the Mazda Furai on the track.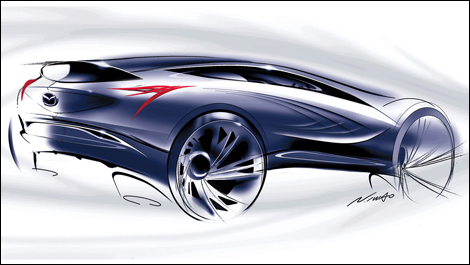 Sources:
http://www.autoexpress.co.uk/news/autoexpressnews/223836/mazda-cx-5.html
http://www.auto123.com/en/news/car-news/mazda-to-unveil-a-new-concept-in-russia?artid=98454