Well, I guess this is my build thread. Bought my Miata in 06, drove it and modded it a little more each year, slapped a turbo on it towards the end and now I'm sitting in V8 territory.
I've been through 3 Neons since I bought it and now have a Mazda 2 as a DD. Little car has staying power (nothing was wrong with the Neons when I ditched them FYI!) (nana)
Here's some pics of how it sat before: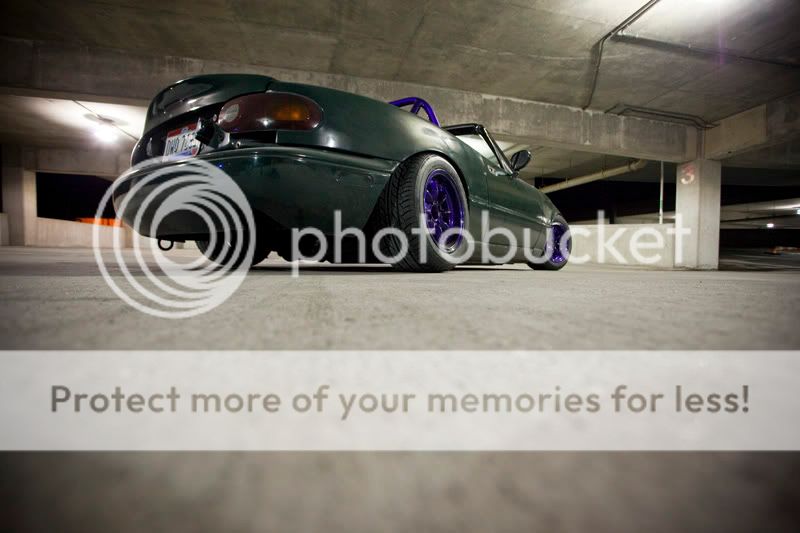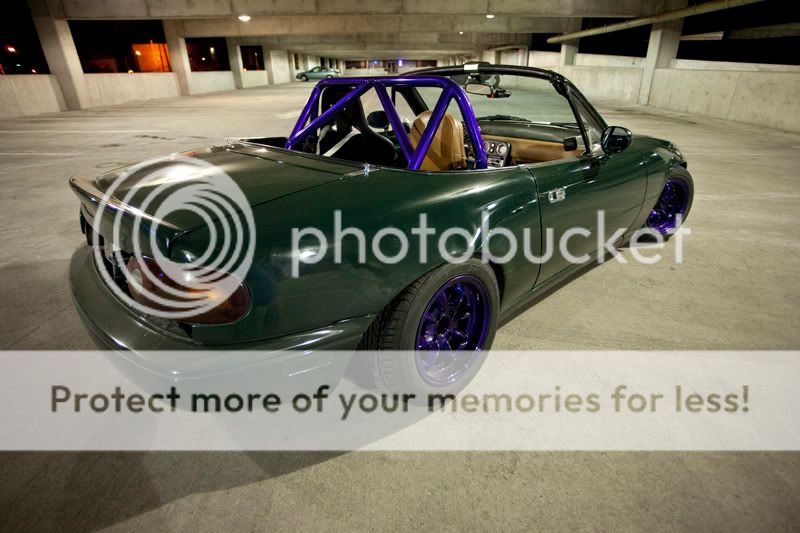 This....... is my V8 List.
Parts acquired thus far:
-LS6 engine with 9,000 miles out of an 01 Corvette Z06, no A/C or PS
-V8 Roadsters subframe mounting kit (includes tubular subframe, engine mounts, tranny crossmember, and frame rail braces)
-T56 transmission out of a 1999 Trans Am (6 speed), with B&M short shifter and skip-shift eliminator
-Monster Stage 3 clutch rated to 700 hp/tq (came with tranny)
-Drive by Wire throttle pedal from a 97-04 Vette
-Walbro 255
-Vette Filter/Regulator
-AN fittings and stainless lines
-LS1 Pilot Bearing (LS6 won't work)
-New Clutch Master Cylinder, bleed lines
-CTS Diff (05, 54k, 3.42 gears and LSD) and diff vent
-V8R Stage 2 Mounting kit with optional aluminum driveshaft
-Refreshed Hubs/Wheel bearings courtesy of Planet Miata, with ARP studs
-Sport brakes with R4S pads
-Flyin Miata/V8R oil pan ordered 7/1/11
Parts that I still need for the swap:
Electrical
-ECU reflash to delete VATS and 2 of the 4 o2 sensors it is looking for
-Speedometer/Gauges in general solution
Exhaust
-Headers (debating stainless FM vs coated Sandersons)
-Exhaust system (want 2.5" or 3" to a Y" to a single pipe back)
Other
-I decided I didn't want my ABS anymore (I had been running it relay-less anyways for about a year), so I yanked everything... which means I need a new non-ABS Master Cylinder and new brake lines
-Cage
Project goals:
-Shaved, tucked, and stitch welded bay
-2200-2300lb curb weight (no A/C, PS, Cruise, ABS, heater)
-15x10 wheels (need to figure out ideal offset to match up with my rolled/pulled fenders that worked well with 13x8 +4)
Random notes:
-OEM Miata wiring harness with plugs for all options weighed 17lbs.