After 11 years of owning my 2002 P5 since new, i guess its finally time to have one spot with all the info on an ongoing build. I've been on this place for almost too long, and still remain one of only a few to stubbornly stick to naturally aspirated power from the FS. I can't say its an easy engine to ring out, but its far better than a lot of people make it out to be. For the most part, i'll stick to whats on the immediate table...but a quick recap of what happened first.
Back in college I had an engineering design class that gave me access to some machining and drafting equipment. Our project was to design and machine something out of aluminum billet. Long story short, i drew up some longer connecting rods and custom HC pistons in a number of different design programs...and cut them out. I later was pretty much given a junked FS that some friends and I tore apart, and put this combo in. With a set of custom cams (worked directly with twilightprotege on the specs, which later became 'twiggys') and a good 1000 rpm higher rev limit...it was consistently making around 175 to 180whp...But then life happened. I knew nothing of wiring or tuning a standalone (had only borrowed a motec for the testing, and we made a reversable loom in minutes just to get it running), was reaching the end of school...and needed to put money in other places. I slowly fell off the scene for a while, and never got around to finishing that project...
until now, at least sort of. I'm giving up on that 2.0L design in favor of a more realistic way to make NA power. The ridiculous compression, still very high piston acceleration, and peaky nature of the cams made the car only fun in the very limits of its rev range...below 5500 rpm, it was barely driveable...granted, it was never fully street tuned, but i'm also not thrilled with the strength of the rods...as i've learned a lot since i cut those out.
There will be plenty of time to fully detail what i'll do for the 'next' engine. Basically to keep it short; I'm going to go with a 1.8L FP crankshaft...connecting rods of a yet to be determined longer length, over bore the cylinders, and a target static CR of around 12:1. I've been working with Wiseco lately on the rods and pistons. The pistons will be easy according to them, after reviewing the engineering designs i've made, but they usually don't do a single order of custom long rods...so we'll see, as i've had some help from members around here on possible factory rods from other engines that will nearly bolt right in...and be exactly what i need.
This setup will reduce displacement down to around a 1.9L depending on the bore, and be capable 8,000 rpm...perfectly reliably...but more on all that later...(been changing some of this lately, after playing with the cams i'd like to use...mechanically i can get 9,000+ rpm easily, but breathing with limited lift up there is going to take some major changes)
The current state of the car is:
Black 2002 Protege 5 w/o ABS, moonroof, side curtain airbags ~156,000 miles haha. Small amount of rust on rear fender needing addressed, burns almost no oil, and remains in pretty good shape...all things considered.
Engine:
MP3 ecu
NA Twiggy cam shafts
FocusMSP cam gears
custom mid-pipe with stock catalyst
Racing Beat cat-back
RR-racing UDP
AWR 94a 'front/rear' mounts, MSP timing belt mount, stock gearbox mount
elm 327 bluetooth data transmitter used w/ Torque Pro for Android
Suspension/wheels/tires:
New Tein SS coil overs
urethane front control arm bushings
17x8 +48 Enkei RS+M wheels (15.2lbs each according to my scale)
Bridgestone RE760 Sports 205/45
MISC:
Kartboy shifter bushings
stock shifter extension removed, using a momo set screw 'ghost' knob right now...with matching leather boot
gloss black interior trim
Alpine 9835 receiver, alpine speakers, 10" sub in ported box (probably coming out soon), and a rockford amp that i don't even remember haha
DaveB gauge rings
For the most part, the car has been this way for a few years, other than the wheels, coil overs, and ecu.
Stuff ready for immediate install:
VTCS delete coming with the install
Speedhut custom 52mm Oil pressure, oil temp, and analog clock. (i'm making a custom bezel to put these in the DIN slot above my receiver)
Fidanza 7.5Lb flywheel
Exedy stage 1 clutch
various interior shat that wore out; have a new gear knob, boot, and napa leather steering wheel wrap replacement on order.
I'll be buying a members Microtech LT10 hopefully next month...and then will source the crank, a used block, possibly a used head...and really get to work.
Nothing too exciting yet, but as it warms up a little outside this will start moving.
A random pic with the old Rota D2's, before the Tein coil overs (pic is with S-techs, both items will be for sale soon...very cheap!!) This was for a friend looking to buy them, but they wouldn't fit his car, so i'll get more 'actual' car photos soon.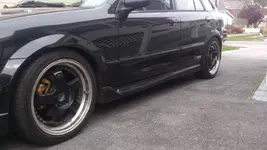 The Twiggy's and gears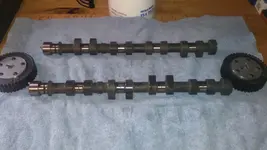 comparison to the Twiggy intake cam with a FS-ZE intake cam (little dark, but you can sort of see how much of a difference in duration these have)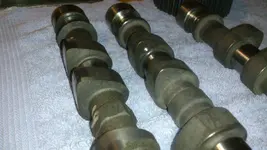 the gauges, i'll have more for these once installed. They were made to match the factory lighting at night. Check out speedhut.com Great prices and they'll do custom overlays and logos if you want. You also pick nearly any color needle, type of font, color of back overlay, type of bezel, etc...for no charge...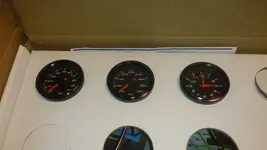 I'll have a lot more up to date pics of the car as soon as its not...2 degrees out there...and anyone interested in some parts (ZE cams, Rota D2 wheels, 2 5Zigen FNO1RCs, misc stock parts, etc.) let me know, i've been too lazy to make a FS thread...but have a good bit of stuff i can let go for cheap.
Last edited: