What happens when the lady behind you just can't wait another 30 seconds for the light to change and has the overwhelming urge to squeeze her Yukon Denali XL between the median and your car to get into the left turning lane.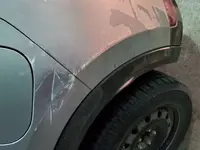 The shop we got the CX-5 fixed at
4 MONTHS AGO
(when some lady backed into our Mazda with her F-150 Crew Cab) quoted us $2400 CAD, on the assumption they can repair the quarter panel. I'm doubtful they can because of the dent in the crease in the wheel arch. They had also said they could repair the dent in our rear hatch (F-150 lady), which was also on a crease. A week later we get a call from them saying they needed to replace the sheetmetal because they just couldn't get the dent out properly.
I'm a bit concerned as to what's involved in replacing the rear quarter panel. It appears to be a single piece that spans from the rear of the vehicle, over the doors, and forms the A-pillar. This must be a structrual part of the vehicle.