So, I was searching around and had come across a CX-5 Signature that looked to have decent discount on it. Going to
their website
to use their 100% online purchase experience, it displays this pricing information when you select the 0% financing option.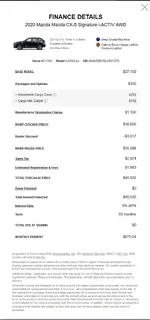 Note the clearly called out
Mark Mazda Price
of
$35588
.
So, I start emailing with a sales rep to get more details on the seemingly high registration & fees and find out about trip/travel permits for out of state purchases. I ask for their best price and he comes back with this:
| | |
| --- | --- |
| Market Value | 38,605.00​ |
| Discount Savings | -1,597.00​ |
| Vehicle Price | 37,008.00​ |
| Rebate Savings | -500.00​ |
| Veh.Price(Net after Rebate) | 36,508.00​ |
| Accessories* | 1,498.00​ |
| Documentation Prep Fee | 598.00​ |
| License / Title | 125.00​ |
| Sales Tax (8.05%) | 3,059.48​ |
| Total | 41,788.48​ |
Note that now the Price is $920 higher than the website quote. The $3017 dealer discount shown on their web site shrunk to only $2097. And, magically, $1498 of accessories were added on that I never asked for nor are shown on their web site listing of the vehicle's details.
On a side note, who charges $598 doc fee? That seems absurdly high, but a freat way for dealers to deceive customers in to thinking they got a deal. Most others dealers I've dealt with charge $150 tops. And a few have offered to do $0 doc fee to close a sale.
I replied asking if he would honor the advertised pricing from the website but he went on about how incentives were different for 0% financing vs cash purchase or standard rate financing (which is correct, but his numbers were still way off). I went back to their site to double check that I had correctly selected the 0% on their website. According to the website, their price was $34088 for cash purchase and $35588 for finance purchase. I asked a second time for him to honor the web pricing but he would not, only telling me the rebates are different for finance vs cash. On the accessories he only said he would see if he could drop one of them. He never provided any better price though.
I just gave up and decided I was done with deceptive people like that. Not worth the time or frustration, and definitely not worth giving them a sale with their deceptive actions.
Last edited: