I'm talking about the guidelines here: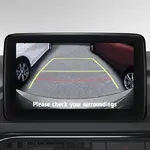 The left and right lines are parallel with the cars in this photo from the Mazda website.
However, in my MX-5 ND the lines are not parallel, the horizontal ones correctly indicate the distance though.
This is what my car looks like (the purple lines):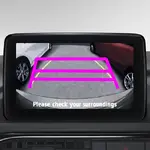 I'm wondering how I can adjust these so that they are correct?
Or is this correct?
I showed the dealer and they are saying it's correct, but I think they are just lazy and don't want to fix it.
It's a hassle because if I align the car according to the guidelines, the car is not parallel to the curb or you would end up in another car!