****SOLD SOLD SOLD SOLD SOLD****
Hey All,
This is my first post on your site - you have a great community here! I come from the Volkswagen side of the internet, always interesting to see the communities form behind the cars we love.
I recently got some Mazda FSDE performance parts on trade, and wanted to give the community first shot at them before eBay. I created this account, read the Marketplace rules (sorry about the typo in my sign, I'm a moron and deserve ridicule), and hope this post is well received.
My ebay account can be viewed here:
http://www.ebay.com/usr/tyler_reid
I am looking to sell these parts as a set, asking
$700 SHIPPED
. All parts are new in original packaging.
Wiseco K614M83 Piston and Ring Kit
Forged aluminum
83mm bore
9.0:1 compression ratio
Comes with rings and wrist pins
K1 028CD12135 H-Beam Connecting Rods
Former P/N: ZH5315AEAB4-A
135mm length
19mm pin
4340
ARP2000 rod bolts
ARP 218-4703 Head Stud Kit
Box is still sealed from factory
Feel free to ask any questions. I am willing to ship anywhere in the continental USA.
Cheers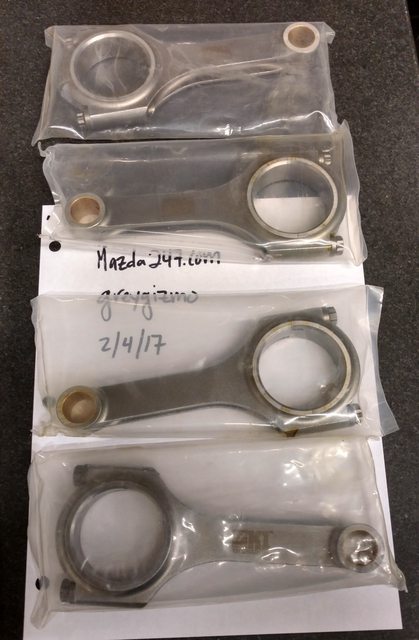 Last edited: