I bought a 2020 CX-5 Signature a couple weeks ago (my first Mazda, and first new car in 15 years) After I test drove the car I noticed there was almost $4000 in "Dealer Added Items" (not accessories) on the window sticker which I prepared myself to argue with them about. My negotiations with the salesman immediately started off somewhat confrontational as it took about 15 minutes of him insisting if I wanted the 0% financing I was going to have to pay MSRP. I had to physically start leaving the dealership before he agreed to negotiate price. In the end the dealer added items never even came up as I assumed he realized I wasn't going to go for all that and I forgot about it until after I eventually bought the car and realized the window sticker they gave me was not the original one on the car and was missing all those items.
Luckily I had taken a picture of the sticker immediately following my test drive: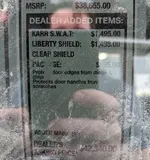 I signed a document indicating there was a GPS device in the car they were going to deactivate. I'm assuming is that Karr S.W.A.T. line item on there. I asked the finance guy if they would physically remove it and he said they don't even know where in the car it's located as it's in a different place for each car. So my first concern is do I have some janky hardwired gps somewhere in my electrical system? Oddly, I did not get a copy of that particular document in all the copies of everything I got after the sale so I cannot review the actual text of what I signed.
For the other two items, Liberty Shield and Clear Shield Package, are these just ceramic coatings or something that they try to bully onto less savvy consumers? And since they were already on the sticker does that mean I got them for free or would they have physically had to apply/install them after the fact? I ask because the Clear Shield says it protects the door handles from scratches and I do indeed have some protective film behind the door handles.
I attached a photo of the film behind the handle: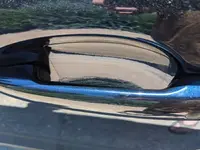 Do CX-5s come standard with that film (or certain trim levels) or did I indeed get some bonus protections for free?
It seems pretty sketch that these things were on the window sticker originally but not on my final one, but I'm assuming that's just a common tactic for dealerships to inflate the price.