I did this to my 2015 Mazda 6 about 3 months ago and it's been one of my least expensive mods with the greatest benefit. For those of you looking for a more prominent exhaust note without paying those Corksport prices, consider swapping out your OEM resonator with a Vibrant one!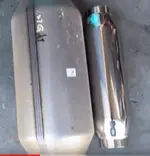 (taken from video so may not look the best)
Vibrant 2.25" Bottle-Style Resonator:
https://amzn.to/2QUkVGw
Pros:
-you can drop about 10-15lbs with this small change
-louder and deeper exhaust note
-retains a clean note without rasp
-one of the least expensive exhaust mods/options for the 6
Installation:
Welding is required to get this mod on so you most likely will need to take it to the shop, but it only costed me $50 and about 30 minutes!
Sound Test:
Because of how hard it is to go off of just someone's word I recorded both setups before swapping the resonator. In my opinion there's a clear difference in tone: both deeper and louder. The change is only more prominent when driving and getting higher in the RPMs.
Let me know what you guys think and if there are any questions don't hesitate to ask them!