My wife informed me she was getting a really loud rattle when idling, and a scraping sound on occasion when driving up concrete aprons off of the street. I looked under the car and the gas tank heat shield was folded down and bent over. Her Mazda5 is a 2007. The little nuts that hold the heat shield in place pulled clean through it because the heat shield rotted out around them. The studs that the nuts go onto were rusted badly. I soaked them in penetrating oil and I was able to get all but one off without breaking them, but I was very irritated to find that the studs that attatch to the gas tank straps do so on a little sheet metal ear that hangs down. When you try to loosen the nut, the whole ear bends. I ended up using a vise-grip to hold the ear and a 3/8 drive ratchet with a 10mm deepwell socket to get the nuts off. My preference of course, would be a 1/4 inch drive. I had to loosen it a little, soak it again with penetrating oil, tighten it, loosen it, etc. to get each one off without breaking them.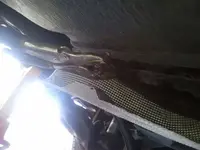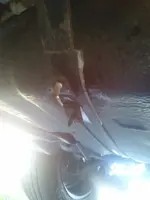 Eventually, the hardware store opened, and i was able to buy the new M6x1.0 pitch nuts and some stainless fender washers to hold what was left of the heat shield up. I put a bunch of antiseize on them and two nuts per stud (the one on the washer was a flange nut and the one on the end, i used a nylock to keep the water and salt from getting on the threads). I could have just cut them shorter, but I didn't want to break out my air tools and fire up my compressor that early in the morning.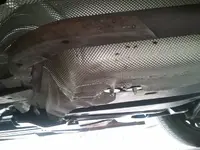 Another thing I noted was that in front, right above what looks like the catalytic converter setup, there is a heat shield in the tunnel for the exhaust that is essentially aluminum foil wrapped over some fiberglass insulation. Half of the foil is gone and the insulation is exposed. Is this thing in danger of catching fire? Do I need to order a new shield for it and pull everything apart (exhaust, crossmembers, etc.) just so that I can know my wife and kids are going to be safe? Can I even get a new shield? I would think there should be a recall for an issue like this BEFORE something bad does happen.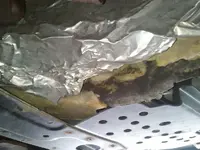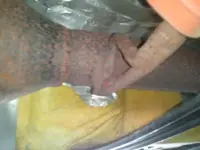 This car has 96,000 miles on it. My Focus had 200,000 on it before i had to mess with the heat shields at all.
Last edited: