Hello all! I am new to the Mazda forum, and should state right away, I am not a current Mazda owner, but I work at a Mazda dealer and know there are some people weary of how the new Mazdas hold up, with the Skyactiv tech. We have a 2014 CX-5 shuttle. It has just over 100,000 kms on it(62,000 miles). We store it in our shop overnight, it's washed every night, oil changes every 8,000km(5,000 miles), but is driven by a lady who is very hard on it. She often redlines it, whips it through corners, and is hard on the brakes. Obviously, she settles down when theres customers on board...
Despite it having a rough driving style, it's held up relatively well. The only repairs we've done are rear brake pads which is a very common thing oddly enough, they usually need to be replaced every 60,000kms, that we've seen anyways. Fuel economy has been exceptional. Like I said, she drives very hard and it has lots of idle time, A/C is always on, and it's all 100% city driven, yet the computer states 8.2 l/100km(28.6 mpg), and it's reset every fillup. The best we've seen was 6.9 l/100km(34mpg) and the worst has been 9.8 l/100km(24mpg)the worst number is from when temps were -35 and we never shut it off all day, even though it would sit for 20 mins with no driving. Fuel economy has been consistent I should say, as well.
Keep in mind, this CX-5 is a base model with AWD so it has the 2.slow SKyactiv in it. We also have a 2016 CX-5 GT 2.5, and mileage is right on the same, with the same driver at the wheel, so mileage really doesn't vary with these engines in this application.
However, not everything is fine and dandy. It does burn oil, we thought it was from our lunatic driver, but we measured other customer cars and theirs do too. We noticed that as the miles go up, the more oil they burn. Also, it is much louder than it was 50,000km ago. Cold starts are much noiser, the starter motor is noiser, and road noise is worse. Our techs blame it on cheap insulation degrading over time. There have been many TPMS faults, even though we had all the proper equipment, the car would still have a light on for it, then it would go off for a while and come back on, never did figure it out. Also, the interior wear has been okay in some areas and not okay in others. The radio trim is starting to peel away. At first it became shiny, but now it's flaking. The stitching in the seats is starting to come out, and both the sunvisors are loose and rattle over bumps as they hit the headliner.
Other than that, it's been a solid vehicle. Our previous Mazda5 shuttles were much more robust I should say. And before that, the CX-9's were even more so. But CX-5's, though they have their glitches, they certainly are a fantastic vehicle. Our goal is to get our 2014 CX-5 to 300,000km before we retire it.
Cheers!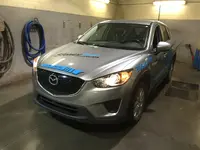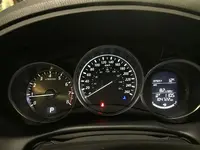 Last edited: