My front drivers side white seat back has a weird mark on it. I have been banging my head trying to figure why this has happened. I noticed about 3 weeks ago a small spot on my seat, I took it to Mazda and they did not know what it was at first, they thought it was some type of dirt so they tried to clean it and nothing helped. The body guy finally said the top surface of the seat cover has worn off...maybe from my pants belt loop. Of course it is not covered because of normal wear. They said they could have it dyed by one of their specialty repair shops. I though something may been on my pants when I sat back but they seem to think it is wear.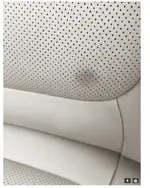 Question is has anyone else had this problem, the CX5 is only 2 years old with 37K on the vehicle. Since that time the area is spreading and I dont like seeing it. I was going to replace the seat but just not sure why this has happened. I have had leather seats for years and never had a wear issue. Mazda did say that the part of the seat is vinyl, not leather.
Appreciate any help.
Last edited: